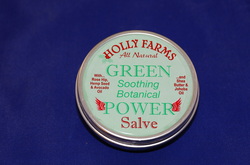 GREEN POWER SALVE $6.95
This salve is great for hard working
hands......even effective for feet! Its
a soothing mix of herbal extracts
(chamomile, calendula, chickweed,
asparagus roots), in an olive, jojoba,
avocado, hemp seed, beeswax base.
Vitamin E is added for healing. Lightly
scented with Lavender Ess. oil 1.5 OZ.
---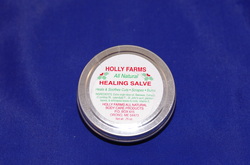 HEALING SALVE $5.00
This salve contains extracts of
comfrey root, calendula flowers,
St. John's wort, plantain leaves, and
echinacea leaves and roots, in an
olive oil, beeswax, vitamin E base.
Works well for cuts and burns, or
any skin abrasion. Unscented. .75 OZ.
---